Accounting adjustments are created from the General Ledger Trial Balance screen, to access follow the menu item:
Applications -> Trial Balance
The trial balance screen is displayed.
Select the "Accounting Adjustments" button. The manual entry screen is displayed:

The screen shows all the accounting adjustments made in the period stated (see drop box above columns headers).
Press the "New Manual Entry" button to create a new accounting adjustment.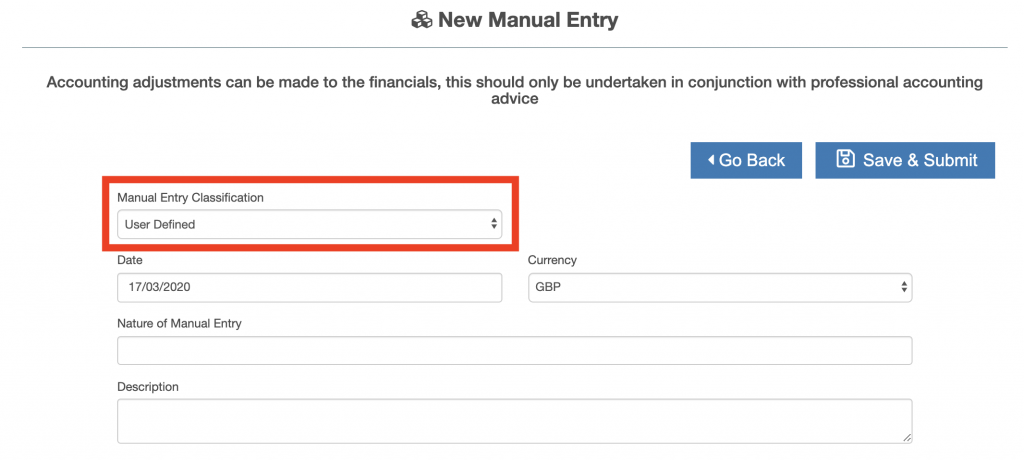 Select the type of manual entry to be made from the "Manual Entry Classification" drop down, the default option "User Defined" allows the user to select the combinations of General Ledger accounts required and enter values. Other options provide pre-populated General Ledger accounts.
Then enter:
effective date for the accounting adjustment
Name of the accounting adjustment
Description of the accounting adjustment
If a classification is selected which is NOT "User Defined" then the general ledger accounts are pre-populated. Enter the amounts and press the "Save & Submit" button.

If the classification is selected which is "User Defined" then select general ledger accounts from the drop down boxes, and enter the amounts.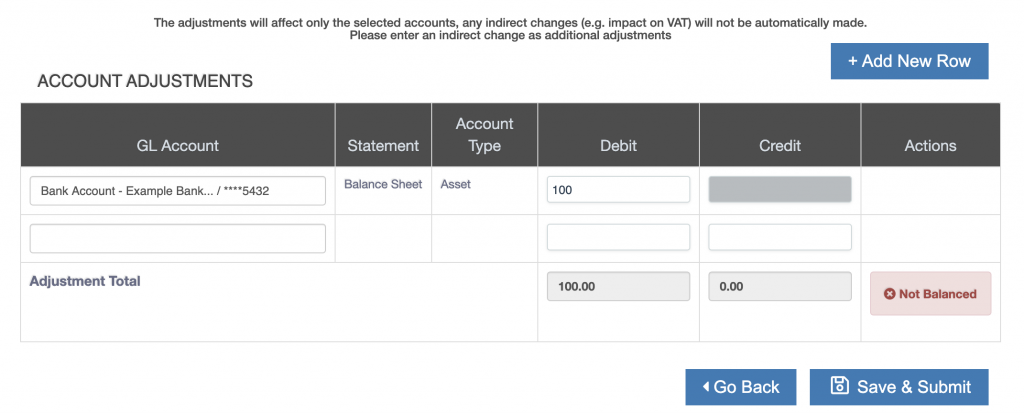 To add more rows into the accounting adjustment press the "Add New Row" button. Press the "Save & Submit" button.
Accounting Adjustment Posted
The accounting adjustment summary screen is displayed after the new accounting adjustment is saved and submitted.

Can I Get Rid Of the Adjustment ?
Once an accounting adjustment is posted it cannot be deleted, but the accounting adjustment can be reversed. This creates an equal and opposite accounting entry which creates a net position as if the accounting adjustment was never created.
However the accounting adjustment and its reversal can be seen in the General Ledger transactions.